mj ptd Nancy x CH Daktari, JC, CGC/TDI Puppies

DOB: March 22, 1997
"The Fully-Functional Rhodesian Ridgeback"
KKB v2.0 &copy 1995-98 by Kimma B. and Kammi K. Hefner
Kushinda@labs.net

This page was last updated February 7, 1998.

Major Pointed Kushinda's First Impression - Nancy
AKC REG NO: HM46667204 Date of Birth: 6-6-93 Place USA
Breeder: Kimma B. & Kammi K. Hefner
Sire: pointed. Kushinda's Rahisi TikTok Jasri, CD, JC, SC, FCh, CGC/TDI, OFA-G
Dam: pointed Kushinda's Crowd Pleaser, JC, SC, TDI, OFA-G
Color: Light Wheaten, Black Mask, Black Nose
Owners: Kimma B. & Kammi K. Hefner POB 21 Chambersburg, PA 17201
... otherwise known as Nancy, is one of Kushinda's strongest moving dogs. Next to Daktari, she has the movement of a Specials Dog! She took a 4pt major and Best Opposite Sex her first time out at Cumberland Valley under Col. W. Pede with absolutely no training - its bred into this bitch!
Nancy has only been shown a handful of times since her first show. She is currently starting up her campaign again this Spring and now only needs a 3pt major to finish. On May 18, 97 under Mrs. Jane G. Kay she also took another BOS.
She is a full littermate to the #2 AKC & ASFA Lure Coursing Dog 1996: FIELD CHAMPION Kushinda's Archive Angel, JC, SC, FCh, LCM - Gwen. And, she is a half-sister to DUAL CHAMPION Kushinda's I-Motion Via K Kru, JC, SC, FCh, LCM - Jean-Claude, the #1 AKC & ASFA Lure Coursing Dog 1996. BTW: Jean-Claude and Gwen were also the Rhodesian Ridgeback Club of the United States (RRCUS) #1 & #2 dogs as well!
Nancy's Uncle Ben, DUAL CHAMPION Kushinda's Rahisi Kubwa BenKim, CD, JC, SC, FCh, CGC, will be honored this year by RRCUS for having completed the requirements for his Versatility Certificate!
And, when Nancy is shown in brace, she is joined by her other Uncle, CHAMPION Kushinda's Rahisi Kou-Zack', CGC/TDI! Truely, an awesome pair to watch in the ring!

---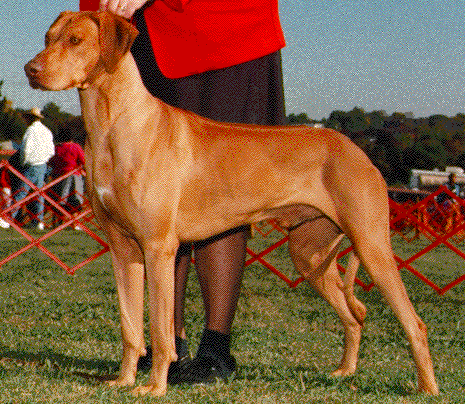 CHAMPION Kushinda's Rahlua Daktari, JC, CGC/TDI, OFA-G - Daktari
AKC REG NO: HM38592203 Date of Birth: 11-18-91 Place USA
Breeder: Kimma B. Hefner
Sire: CHAMPION Mshindaji's Rahisi Kushinda, JC, OFA-G
Dam: CHAMPION Kushinda's Kima Kahalua Sunda, OFA-E
Color: Red Wheaten, Liver Nose
Owners: Kimma B. & Kammi K. Hefner POB 21 Chambersburg, PA 17201
... otherwise known as Daktari, emulates the true foundation of the Kushinda Kennel breeding philosophy. A deep red wheaton, liver nose, standing proud at 27 inches and weighing in at 82 pounds, Darktari is the "Fully Functional, MULTI-TITLED, Rhodesian Ridgeback:"
In the ring, earning his AKC Confirmation Championship on November 26, '94 with three majors; and his AKC Canine Good Citizen certificate on March 20, '96;
In the field, earning his AKC Junior Coursing title on October 31, '93; and
Serving mankind, becoming a registered Therapy Dog, via Therapy Dogs International in April, 1996. Since October '95, Darktari has logged over 180 individual, one-on-one, therapy visitation sessions.
Darktari is exclusively bred by, owned by, and handled by Kimma B. & Kammi K. Hefner of Kushinda Kennels, Chambersburg, Pennsylvania.

TABLE OF INDIVIDUAL PUPPIES
---
Other Nancy x Daktari Puppies

---


Britton - Female, Light Wheaten, Liver Nose, Dual Champion (Will stay at Kushinda)
Daphne - Female, Red Wheaten, Liver Nose, Conformation Champion (Lives in Pennsylvania)
Homer-John - Male, Light Wheaten, Black Nose, Dual Champion (Lives in Germany)
Kori - Male, Light Wheaten, Liver Nose, Dual Champion
Lisa - Female, Light Wheaten, Liver Nose, Dual Champion (Lives in Ohio)

All of the puppies have perfect ridges and bytes. Any white you see on the girls feet is already fadig into the coat.

Combinding the best of what Kushinda has to offer through Nancy and Daktari has produced five of the most outstanding specimens of the breed we could ever hope for in our breeding program! Bringing our 50+ years combined expereince together through these dogs has been exciting! We feel that Nancy and Daktari are Kushinda's best mover's and each are very fun and enjoyable to show. They carry their heads high and float on the end of your lead! Kou-Zack' (Daktari's brother) is our next best mover ... and these puppies have all 3 dogs behind them!

Each of these puppies is destined for the Conformation and Obedience rings; the Coursing field, and the Agility course. These are fully-functional performance dogs! Having already jumped out of their whelping box, chased and killed a plastic bag in the yard, and run to "puppy puppy puppy"! They are each active-type dogs and will require someone who is willing to engage in these activities on a regular basis. These are not puppies who will take to a boring life ... they will insist on mental stimulation. In other words, a daily walk around the block would not be enough. They take after their Uncle TikTok and want to be menatlly an dphysically challenged. If you have every wanted to use a Ridgeback for search and rescue, these would be the dogs ... they will never quit on you!

The litter is very consistent across all puppies; and thus with our knowledge of the background of these puppies, it is safe to say they have a very strong genetic makeup for the Ridgeback characteristics. Each of the puppies would be an asset to any breeding program. And, at this point we would venture to say they would be dominate for most characteristics except the color. As you can see in the other litter where TikTok is the sire, the puppies all look like Giorgio!

We are definitely keeping Britton and Kori. Each day Kori continues to impress me with his head, using it constantly to make decsions,just like his father! Homer-John is also destined to do great things in Germany with his new owner Jutte Heansel! Lisa lives in Ohio. And Daphne has taken residency in Pennsylvania.

---
New Puppy/Dog Owner's Interview/Application Form,
Sample Pet Contract ,
Health Guarantee ...
If you are interested in a Kushinda Fully-Functional Performance puppy/dog, please download and review Kushinda's Relevant Documents.
---
Return to

TOC KKB
"Leading the Luring Legend"
KKB v2.0 &copy 1995-98 by Kimma B. and Kammi K. Hefner
hefnerk@cvn.net and hefnerk@labs.net